Are You Looking For The Best Driveway Ideas For Your Home to Upgrade the Worth of Your House?
Let's discuss some of the things we should know before idealizing our best driveway ideas. First, we need to know some major aspects before having a driveway for you.
We provide you with the bulk of knowledge for choosing the right driveway for your mansion. Let us dive into the pond of knowledge we have written for you.
Why Should You Install a Driveway?
Having a driveway is common, but one should know the best driveway to install that assists you with determining satisfaction. We inform certain gains you can achieve by having the best driveway idea.
Elevate the Property Price With the Best Driveway Idea
The best driveway idea helps to elevate the value of your property rapidly. Viewers are more attracted to the areas having a finishing touch.  This will make your property much easier to sell if you want to sell. A driveway idea gives you a quick sale option. So, you should consider the best driveway idea.
Protection of Your Property with the Best Driveway Idea
A driveway with a security gate is the best way to protect your property and family gossip. A driveway builds a space between you and the notorious eyes.
At the same time, it protects your vehicle from being stolen. A car parked on the road has a greater chance of being stolen. Have the best driveway idea to keep your people and vehicles safe.
Give an Enduring Impression with the Best Driveway Idea
We have heard that the first impression is the last. The driveway is the first impression of your house; make your first impression worthy by installing the best driveway.
Your property will stand out with an upgraded driveway. A driveway makes your home different from your neighbor's property. Your driveway decides the impression of your home on coming guests.
Your Brief Introduction to Driveway Ideas
A driveway is a non-public road leading from a public road toward your building or apartment. A driveway is used for parking your car, is a pathway to your entrance, and gives an exquisite look to your house. One can or can not be used for traffic because it is made aside from the main road just on one's property. Driveways commonly cover personal garages or house areas.
Set Your Material for Your Driveway Ideas
It is very important to choose the right coverage for your driveway. Your material decides the longevity of your driveway. A fine material for a driveway is selected by considering the following aspects: durability, cost, maintenance, ease of installation, color, shape, and appearance.
Driveway Ideas: 10 Unique Driveway Ideas You Must Go For
1. Block Paving
When it comes to making your driveway attractive & lush, block paving is the best option to achieve that. A driveway with block paving increases the value of your house. This can add a finishing end to your driveway.
Upgrade your driveway with block paving driveway ideas. It gives you a regular look. The blocks in this driveway make it more weight-bearing.
Features of Block Paving Driveway
Durability
Weight-bearing
Drainage system
Environmental friendly
Interesting designs
Non-slippery
Range of colors
What are the Pitfalls in a Block Paving Driveway?
Block paving is much better in harsh weather. Its value increases with its load-bearing capacity and stainless surface issue.
A block paving driveway has gaps among blocks that allow snow or dust to trap in it. Due to these gaps, additional cleanliness is required, which is time-consuming.  Installing a block paving needs extra time to get a full build.
2. Concrete Driveway
Concrete is a mixture of Portland cement, water, aggregates, and sand pouring it and letting it dry. It gives a modern look to your property. It is available in limited shades like brown, earth tones, and sandy color.
Concrete Driveway adds beauty to your driveway with its concrete look. Concrete is the masterpiece for your driveway to get the attention of your guests and neighbors. You can prolong your concrete driveway with the attention of some hours.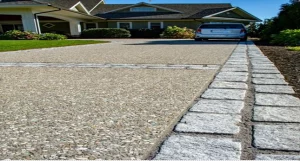 Features of Concrete Driveway
Highly durable
Longevity
Range of colors
Affordable
What are the Pitfalls in the Concrete Driveway?
A concrete driveway is not environmentally friendly. It requires regular maintenance. A concrete driveway is not so much attractive due to the material used for its construction. It is not DIY-friendly and can be water damaged or cracked. Further, it requires proper drainage.
3. Asphalt and Tarmac Driveway
If you are looking for a cost-friendly driveway material, asphalt, and tarmac is the best option select. It is made in the presence of high temperatures. Asphalt driveway installed with no usage of extra time. It saves your time and offers fast usability.
A tarmac driveway is resistant to skids which also resist snow from settling down. It is best for high-traffic usage. A little artistry gives a long way impressive look.
Features of Asphalt and Tarmac Driveway
Durable
Long-lasting for up to 15 years.
Require low maintenance
Easy to install
Spic and span driveway
What are the Pitfalls of Asphalt Driveways?
A driveway made of asphalt is non-environmental friendly. It gives zero color range. Not temperature resistant and create harmful emissions when subjected to high temperatures.
4. Resin-bound Driveway
A resin-bound driveway uses the resin-bound system to build a driveway. It is a mixture of resin and aggregate stone. The prepared mixture is poured on the site and later leveled up for proper drainage. Its honeycomb structure permits air and water to pass through.
A resin-bound driveway offers you a wide range of benefits. It is an alternative of a block paving. When you have a look at both, you see a distinctive difference between them. A uniform surface with a resin-bound covering is waiting to be laid on your walkway.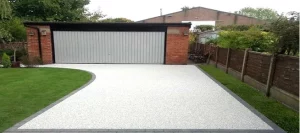 Features of Resin-bound Driveway
Easy to install
Affordable
Durable
Environmental friendly
Easy drainage
slip resistance
permeability
Range of colors.
What are the Pitfalls of the Resin-Bound Driveway?
A resin-bound driveway is pertinent for high-usage tracks as it is not for heavy traffic. The stone used for construction may fade away its color. A resin-bound driveway is not even weed-resistant.
5. Porcelain Driveway
A porcelain driveway gives your house a captivating look. The best-rating driveway. Porcelain is a lump of clay mixed with natural aggregates in a furnace. It is a non-porous structure. Porcelain driveway adds value to your driveway.
A porcelain driveway is best for the drainage system. It does not let the water settle down. It absorbs a little water that, makes it resistant to stains.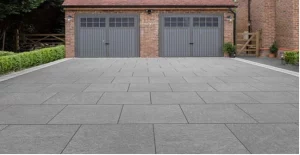 Features of Porcelain driveway
Extremely durable
moisture resistance
Give a modern look
Require Low maintenance
Easy to install
What are the Pitfalls of Porcelain driveway?
It is difficult to lay a driveway of porcelain material. A porcelain driveway is much thinner than a concrete driveway. At the same time, it is high in cost. Knowing these pitfalls, one can think before choosing a porcelain driveway.
6. Gravel Driveway
It is the simplest of all driveways. If your house or place is a rusty grave, the driveway is the best option to carry. It is carried out in a very easy way. Just laying off simple gravels on a plain surface. It is mostly the choice of rural people as concrete or porcelain can not last long there.
A tree-lined gravel driveway takes your place to another level of elegance. It can be repairable with little effort. You can make your gravel driveway much more appealing with different driveway ideas.
Features of Gravel Driveway
Extremely affordable
Easy to install
Easy to repair
Good drainage system
Easy to maintain
Color ranges
What are the Pitfalls of Gravel Driveway?
Due to the nature of the material used for constructing a gravel driveway, it is difficult to remove the snow when trapped in stones. Gravels may wash away with water in heavy rain or when washing. Not environmentally friendly and permit the growth of weeds and moss.
7. Stone Driveway
If you want to have a natural look for your driveway. The stone driveway is the best option for this. Natural stone on your driveway gives your place a fine and finishing look. There are a huge variety of stones for this driveway.
But this driveway demands some special maintenance. Stone maintenance is easy at some point because a patch of stone can be removed and replaced when needed.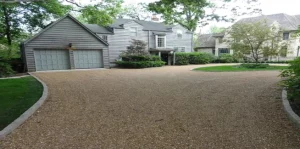 Features of Stone Driveway
Permeable surface
More designs of stones
Range of colors
less finishing time
What are the Pitfalls of the Stone Driveway?
Installing a stone driveway can be costly for you because it's tricky to handle natural stone available in different shapes and sizes. Need proper maintenance for its durability. Permit weed growth through gaps between the stones.
8. Reinforced grass Driveway
Having a reinforced driveway is time-saving and helps to support the environment. In this driveway, a layer of sand, gravel, and grass blocks are layered with soil on top. This awards your palace a natural look with its environment-friendly material.
This is only the driveway that offers great drainage. t can be installed in both commercial and residential areas.
Features of Reinforced grass driveway
Environmental friendly
A natural green finish
Keep the driveway cool
Water absorbent
What are the Pitfalls of Reinforced Grass Driveways?
Having a reinforced grass driveway is quite expensive due to its tricky nature. The grass in the driveway allows further weeds to grow. For this reason, it needs special trimming and time-to-time maintenance. Due to the moisture in the soil of grass, it is not long-lasting.
9. Crazy Paving Driveway
Crazy Paving is a well-liked structure for many driveways. Its uniqueness lies in its interlocking design. Different irregular-shaped bricks are joined together to form an eccentric finish. For its installation, experts should be hired to lay it in such a way as to handle the heavy load.
Crazy paving stands against any weather conditions making your palace cool in summer and warm in winter. A great option to choose for your walkways.
 Features of Crazy Paving Driveway
Affordable
A wide range of designs
Easy to maintain
Long-lasting
Weed resistance
Fine finishing
What are the Pitfalls of Crazy Paving Driveway?
It is not durable due to deterioration with time. It becomes weak and quite slippery due to usage. A crazy paving driveway is difficult to install. It needs high-quality experts for its installation.
10. Brick Driveway
A brick driveway is rich in color. A brick driveway has been a worthy material for many years.  It gives a decorous look to a pathway. The most commonly used material for the driveway is brick due to its specific characteristics. It is made of tough-fired material that gives it a long-lasting effect.
Its firm texture made its grip on the ground. These features make a brick driveway much more secure than other driveways. It makes your path elegant. These driveways are weather resistant.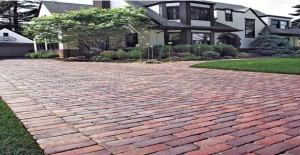 Features of Brick Driveway
A wide range of colors
Durable
Long-lasting
Recycled
Repairable
Fine finishing
What are the Pitfalls of Brick Driveways?
Installing a brick driveway is a tricky task. A brick driveway needs a high level of attention for regular maintenance. Sealing is required after every wash. Pressure washing for a year is important for durability.
Driveway Ideas: That Made Your Driveway Momentous
Say bye-bye to your boring driveway. Different ideas made your driveway look splendid. With the help of certain changes, you can make your driveway a natural paradise.
1. Adding a classic pond to your driveway makes a mesmerizing entrance. It will give a natural vibe to you and your neighbors.
2. Introducing a cottage with some greenery takes your driveway to the top. Greenery is always a sign of positivity
3. Boarder your driveway with some unique stonework and give your simple-looking driveway a complementary finish.
4. Colored paving is the secret to the beauty of your driveway. Selection of the right color complementary to your house's color inspires your house's beauty.
5. Give a rustic touch to your driveway for an agrestic look.
6. Add a finisher with a central gate. A central gate is like a firecracker for your long driveway. The central gate to your driveway trickles the temperament.
7. Enlighten your driveways with magnificent lighting ideas. Illuminate the borders of your driveway with ground lights or flush fittings. This lightens the way for you and your guests.
Use the best driveway idea to poop up your driveway.
What is the Most Affordable Driveway to be Selected?
As per the labor cost and material used, the best affordable driveway is a gravel driveway. But it will not be appealing to your home.
Poured concrete stands next to gravel driveway in affordable driveway ideas. Our affordable driveway ideas will make your budget go ahead. Get the best idea for your driveway according to your budget.
What Steps Should Be Taken for Driveway Installation?
We have provided you with all the basic pieces of information necessary for choosing the material for a driveway. The next step is the installation process. A great level of adroitness is required for the installation.
When you are done up with the right driveway material for your house, you should select the best installation company for further work to build the driveway you are dreaming of. For the construction,  a driveway needs experts to be done.
When you spend a lot on buying the best driveway material for your chamber, now it is time to spend some on the best installers. Scrutinize every installation company near you and go for the best.
Relevant Questions 
Which is the best stone for a driveway?
Which is the best idea for a driveway?
How much does a driveway cost?
What is the most affordable driveway to pick out?
Ideas to make the driveway a heart-touching and mesmerizing driveway?