The resin-bound system is used to build a resin-bound driveway. The resin, which is UV-resistant polyurethane, is mixed with aggregates to form a mixture.
A mixture formed by mixing resin and aggregate stones using an appropriate preparation method is Resin bound mixture used in driveways or paving. Due to its several advantages, it came to be a popular choice and gained the interest of people. Stone carpet is the additional name used for resin-bound driveways.
The resin-bound system is all imposed on the construction site. The quality of resin-bound surfacing depends on the varieties of aggregates utilized in the mixture. An appropriate and balanced ratio of resin and aggregate is mixed for a proper resin-bound mixture. The mixture is then smoothly poured onto a prepared site, and a leveled surface is created for the drainage of water.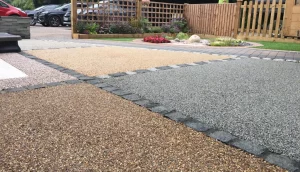 To get a great resin bounding mixture:
The following facts should be assessed during the preparation of the mixture
Type of stones in aggregate
A balanced ratio of resin and aggregate (3% aggregate to 7% resin).
Type of environment
Advanced Driveway Solutions provides quality Resin-Bound Driveways throughout Blackpool & its surroundings. Click on the WhatsApp button to contact us.
Benefits of Resin-bound driveway:
Due to the following benefit that a resin-bound mixture provides, it is highly suggested.
The best quality of the resin-bound mixture is permeability/porosity. This permits water from sipping down and leaves the surface smooth. It withstands driveways from being puddles and insulates them from flooding.
The stability of a mixture is an important factor to look at during the selection of aggregate. These shield driveways from harsh weather, whether heavy rain or extreme heat. For this, high-quality UV-resistant resin is employed.
The mixture provides a Sustainable urban drainage system.
  Varieties of stones provide an attractive impression on driveways. They have embellishing potential. One can choose the stone of his choice, available in plenty of colors.
It gives a smooth and silky finish to the driveway. This is due to the texture of aggregates and stones used in the mixture.
Resin-bound driveways are slip resistance that resists accidents from taking place.
A worthy mixture lasts at least two decades.
Resin-bound driveways resist the growth of weeds. This is due to its bounded surface.
Disadvantages of the resin-bound driveway:
Every image has two sides, a bright and a dark one. Like the benefits of resin-bound mixture that lure people, resin-bound driveways have unavoidable disadvantages.
Resin-bound driveways are not pertinent for high-usage tracks. Over time heavy traffic may induce wear and tear on driveways which seem to be expensive.
Unskilled installation by non-experts will be a problem. To ensure a polished appearance and smooth texture, it is necessary to hire professionals for the installation of resin-bound driveways.
It seems to be of high cost due to all its intricacies. All frailties take time to emerge.
The stone used in the mixture can fade its color if not picked keenly. Due to heavy usage and drastic weather, the color may wither fast.
Weed and moss somehow get their optimistic environment to thrive due to lack of maintenance. This puts on a ragged look to the driveway, and it becomes slippery.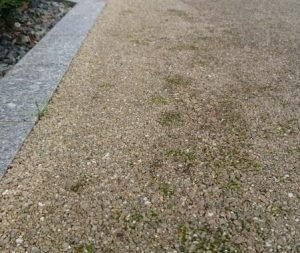 The alternative of resin bound system:
People use many substitutes instead of resin-bound systems to avoid these minor drawbacks.
NatraTex.
Track driveway.
Tar-and-chip driveway.
Block paver driveway.
Stamped concrete driveway.
Loose slate driveway.
Interlocking driveway.
NatraTex stands out as the best alternative to resin-bound systems due to its numerous advantages.
NatraTex is available in a variety of colors.
NatraTex color range has a spectrum of colors with neutral buff tones.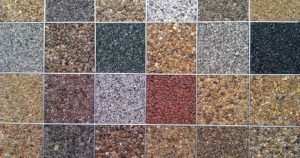 NatraTex is used in outdoor spaces like regeneration, retail and residential.
It is eco friendly
It is a cost-effective surfacing
It requires low
Difference between a resin-bound driveway and resin-bound surfacing:
Stone layer surface:
On resin-bound surfaces, meld the stones in a mixture of resin and aggregate. Next, lay the mixture on the prepared site to create a permeable surface finish.
When constructing a resin-bound surface, the surface will have a rough texture. This is because the process involves first applying the resin to the surface, followed by scattering aggregates on top of the resin.
Remove any excess stones from the exterior.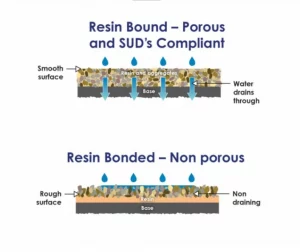 Permeability:
Permeability is the second most difference between resin-bonded and resin-bound surfaces. The resin-bound surface is water permeable, allowing water to leave and therefore used for a decorative finish. On the other hand, the resin bond is impermeable. It requires quiet supervision.